Customer Reviews
Write a Review
Ask a Question
Filter Reviews:
belt
buckle
pants
husband
wear
jeans
belt loops
play
home
desire
06/12/2020
Ryan C.
United States
Not impressed
It looked like a tough adventure belt online. The pictures of the belt buckle appear to be metal, but it is actually just a cheap thin plastic. Definitely not worth the money spent
Annoying
Ok so theres 2 frustrating things about this belt: 1. Its thickness. Hard to fit through most of my pants, its a 2 person job or I have to take my pants off and put the belt in before I put them on. 2. The excess belt/loop. If you can find a pair of pants the belt fits in, the excess belt which is kept tucked under by an elasticized loop gets caught in every belt loop putting the belt in, pulling the loop down to the end of the belt and unleashing the excess belt it had been keeping tucked. You can see in the photo that the elastic loop is going to get caught on every belt loop, pulling the loop down the length of the belt each time. It gets caught in any direction and theres no avoiding it. Overall, more frustrating than just using a classic belt. ¯\_(˘͡ ˘̯)_/¯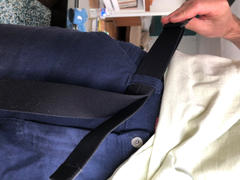 10/06/2020
Jim .
United States
Myth dispelled
I don't usually leave reviews, but I often read them. I just came back the site to order a belt for my father and happened to see many people saying they felt the plastic buckle was cheap. I'd just like to say that I have been wearing mine nearly every day for 6 months straight and the buckle works just as well as it did the day I received it. I absolutely love this belt, and have no desire to go back to a regular belt. I wear it to work as a utility worker and have had no issues whatsoever, when I get home I shower and the belt goes right back on for play or relaxing. I was worried the cloth nature of the belt would start to look ****** from wear but it hasn't, it looks just as good as new. I also saw some complaints about it not fitting through their belt loops, I'm sure that's a legit concern based on the particular pants you're wearing, myself though I have had no issues, I mostly wear jeans or khakis.
07/27/2020
Anonymous
United States
Best belt ever!
Love this belt! What a genius idea. Fits comfortably and has just the right amount of flex and give.
03/06/2020
Celso A.
United States
Low quality
I was a little disappointed so far. The belt seems very fragile since the buckle is made of plastic and won't be useful in my work environment. I also don't like how difficult it is to adjust the belt to a longer or shorter length.
Celso, We're bummed you're not happy with your purchase. We want you to be happy so let us know if we can help find you a belt that is better suited for your needs. You can contact us via email or if live chat is open, ping us there.