Customer Reviews
Write a Review
Ask a Question
Filter Reviews:
wear
pants
belt
leather belt
khakis
belt loops
jeans
utility worker
play
home
Annoying
Ok so theres 2 frustrating things about this belt: 1. Its thickness. Hard to fit through most of my pants, its a 2 person job or I have to take my pants off and put the belt in before I put them on. 2. The excess belt/loop. If you can find a pair of pants the belt fits in, the excess belt which is kept tucked under by an elasticized loop gets caught in every belt loop putting the belt in, pulling the loop down to the end of the belt and unleashing the excess belt it had been keeping tucked. You can see in the photo that the elastic loop is going to get caught on every belt loop, pulling the loop down the length of the belt each time. It gets caught in any direction and theres no avoiding it. Overall, more frustrating than just using a classic belt. ¯\_(˘͡ ˘̯)_/¯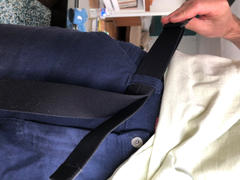 06/12/2020
Ryan C.
United States
Not impressed
It looked like a tough adventure belt online. The pictures of the belt buckle appear to be metal, but it is actually just a cheap thin plastic. Definitely not worth the money spent
03/06/2020
Celso A.
United States
Low quality
I was a little disappointed so far. The belt seems very fragile since the buckle is made of plastic and won't be useful in my work environment. I also don't like how difficult it is to adjust the belt to a longer or shorter length.
Celso, We're bummed you're not happy with your purchase. We want you to be happy so let us know if we can help find you a belt that is better suited for your needs. You can contact us via email or if live chat is open, ping us there.
07/27/2020
Anonymous
United States
Best belt ever!
Love this belt! What a genius idea. Fits comfortably and has just the right amount of flex and give.
06/15/2020
Anonymous
United States
Good Belt
Good belt, took a a little to get used to, getting it through evry belt loop, as my old leather belt just slipped right through. Overall, good belt that holds tight but gives you the flex you need.